Research Supplemental Poverty Measure
An Alternative Measure of Poverty
In 2011, the Census Bureau issued a paper that laid groundwork for developing a new Supplemental Poverty Measure (SPM) for the United States.
This paper illustrate differences between the official measure of poverty and a poverty measure that takes account of in-kind benefits received by families and nondiscretionary expenses that they must pay.
The SPM also employs a new poverty threshold that is updated with information on expenses for food, clothing, shelter, and utilities that families face.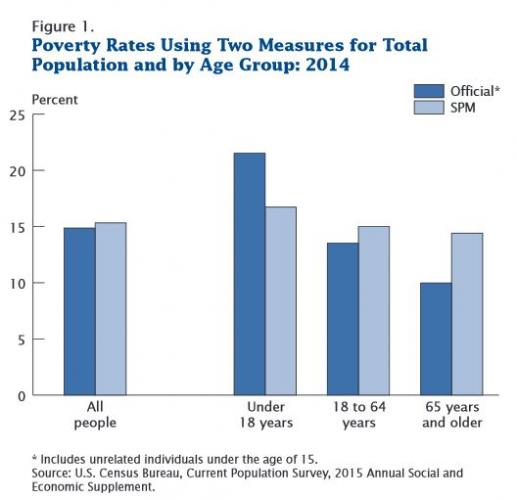 The reports on the Supplemental Poverty Measure provide national-level data for 2009 to 2014. Tables compare the number and percentage of people in poverty using the official and SPM for various demographic and socio-economic groups.
Frequency and Timespan: Annual data for 2009 to 2014
Geographic Level of Coverage: National with some regional breakdowns
Publications and tables are available online
Sources:
Short, Kathleen, The Research Supplemental Poverty Measure: 2010, U.S. Census Bureau, Current Population Reports, P60-241 (PDF), U.S. Government Printing Office, Washington DC, 2011.
Short, Kathleen, The Research Supplemental Poverty Measure: 2011, U.S. Census Bureau, Current Population Reports, P60-244 (PDF), U.S. Government Printing Office, Washington DC, 2012
Short, Kathleen, The Research Supplemental Poverty Measure: 2012, U.S. Census Bureau, Current Population Reports, P60-247 (PDF), U.S. Government Printing Office, Washington DC, 2012
Short, Kathleen, The Research Supplemental Poverty Measure: 2013, U.S. Census Bureau, Current Population Reports, P60-251 (PDF), U.S. Government Printing Office, Washington DC, 2014. Accessed 10/17/2014
Short, Kathleen, The Supplemental Poverty Measure: 2014, U.S. Census Bureau, Current Population Reports, P60-254 (PDF), U.S. Government Printing Office, Washington DC, 2015. Accessed 11/12/2015