Kevin Johnson
Dean of the Law School, and Mabie-Apallas Professor of Public Interest Law and Chicana/o Studies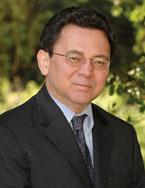 Kevin Johnson received his J.D. from Harvard Law School in 1983. His research interests include immigration law and policy, refugee law, civil rights, and the Critical Race and Latina/o theories.
Johnson has published extensively on immigration law and policy, racial identity, and civil rights. Published in 1999, his book How Did You Get to Be Mexican? A White/Brown Man's Search for Identity was nominated for the 2000 Robert F. Kennedy Book Award. Opening the Floodgates: Why America Needs to Rethink its Borders and Immigration Laws (2007), one of his most recent books, has influenced the national debate over immigration reform.
A magna cum laude graduate of Harvard Law School, where he served as an editor of the Harvard Law Review, Johnson earned an A.B. in economics from UC Berkeley. After law school, he clerked for the Honorable Stephen Reinhardt of the U.S. Court of Appeals for the Ninth Circuit and worked as an attorney at the international law firm of Heller Ehrman White & McAuliffe. Dean Johnson has served on the board of directors of Legal Services of Northern California since 1996; after serving as Vice President, he currently is President of the board of directors. In 2006, he was elected to the board of directors of the Mexican American Legal Defense and Education Fund, the leading Mexican-American civil rights organization in the United States.
Johnson joined the UC Davis law faculty in 1989 and was named Associate Dean for Academic Affairs in 1998 and Dean in 2008. He has taught a wide array of classes, including immigration law, civil procedure, complex litigation, Latinos and Latinas and the law, refugee law, and Critical Race Theory. In 1993, he was the recipient of the law school's Distinguished Teaching Award.
A regular participant in national and international conferences, Dean Johnson has also held many leadership positions in the Association of American Law Schools and is the recipient of many honors and awards. The Minority Groups Section of the Association of American Law Schools honored him with the Clyde Ferguson Award in 2004. In 2006, the Hispanic National Bar Association named him the Law Professor of the Year. He was named the National Association of Chicana and Chicano Studies 2008 Scholar of the Year. In 2003, Dean Johnson was elected to the American Law Institute.