Virtual Conference: The Experience of Poverty Amid Plenty in the Bay Area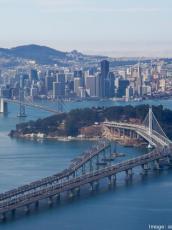 The coronavirus pandemic and economic fall-out have exacerbated longstanding inequalities in the Bay area. The region where the next app might make overnight millionaires is also the place where minimum wage jobs cannot cover sky-high rents and where families struggle to make ends meet. This panel shares research on Bay area residents' struggle to get adequate housing, secure workplace protections, and pay the bills when hardship hits, drawing in part on unique data from the Taking Count survey of six Bay area counties. It also examines what Bay area residents do and where they find support when they need help. The data show that race and immigrant background play an especially important role in affecting residents' well-being, and that even as local cities try to address homelessness and economic hardship, a lot still needs to be done. Academic experts will join in a conversation with a local nonprofit that is fighting poverty, Tipping Point Community, to discuss the problems in our own backyard.
Speakers:
Irene Bloemraad (UC-Berkeley) – Professor Bloemraad is director of the Berkeley Interdisciplinary Migration Initiative and has conducted extensive research into immigrants' civic integration and inequities in nonprofit service-provision.
Dani Carrillo (UCSF) – Dr. Carrillo is Research Specialist at UCSF with expertise on low-income populations' access to safety net programs and a particular focus on immigrant populations and the medical safety net.
Sam Cobbs (Tipping Point Community) – Sam Cobbs is CEO of Tipping Point, which works to fight poverty in the Bay area. Previously he headed the Oakland-based nonprofit First Place.
Ryan Finnigan (UC Davis) – Associate Professor Finnigan studies poverty, inequality, and social policy in the United States and internationally.
Danny Schneider (Harvard/ UC-Berkeley) – Professor Schneider is an expert on household economic security and the impact of work on family health and well-being.
Kim Voss (UC-Berkeley) – Professor Voss is an expert on work and the US labor movement as well as the shifting terrain of US higher education.
Sponsors:
Tipping Point Community
Institute for Research on Labor and Employment (UC Berkeley)
Othering & Belonging Institute (UC Berkeley)
Center for Poverty Research (UC Davis)
Scholars Strategy Network