What Will Indefinite Detention Do to Migrant Kids?
Op-Ed Written by Center Affiliates Leah Hibel and Caitlin Patler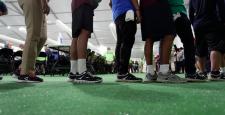 The New York Times
August 27, 2019
The Trump administration last week announced a new regulation that would allow the government to indefinitely detain migrant families who cross the border. If it goes into effect, it would terminate an agreement known as the Flores settlement that has been in place since 1997 to ensure that children are kept in the least restrictive setting possible, receive certain standards of care, have access to lawyers, and are generally released within 20 days. The effect would be to extend the well-documented suffering of migrant children in detention centers.
Six children have died while in Border Control custody in this fiscal year alone. Reports have detailed inhumane conditions in immigration detention centers, with children sleeping on cement floors and suffering from hunger, inadequate health care, and a lack of toothbrushes and soap.
While a recent appeals court ruled that the Trump administration must provide hygiene products at migrant facilities, this offers little comfort. Numerous studies have made it clear: No detention center is healthy and safe for children. If the new rule — which is now the subject of a legal challenge by a group of states and the District of Columbia — is carried out, it will increase the length of time children are detained and magnify the harmful effects.
Detention centers are stressful, chaotic and unpredictable environments, especially for children. Developmental science tells us that children's developing brains and bodies depend on a safe environment, rich with language and activities, where they can explore, move, play and create during the day, and have calm restorative sleep at night.
Many detention centers are not equipped to provide these necessities. Scientific evidence shows that the deprived setting of a detention camp will stunt child cognitive, social, emotional and language development, making it harder for them to learn, follow directions, connect with peers, and handle stress.
In addition to lacking basic necessities, children at detention centers have reported being the victim of violence, including sexual violence. Children may also witness violence against their parents while detained with their families. These are traumatic experiences, and studies show children are more likely to have symptoms of post-traumatic stress disorder and depression after being detained compared to before.
Even when detention is not an immediate threat to safety, and children are placed with their families, detention centers do not provide the necessary stimulation for normal development. Simply providing food, hygiene and a place to sleep is not sufficient. Endangering children by placing them in detention centers is contrary to all available research evidence on child welfare.
Young children are particularly susceptible to stress and trauma, and research shows that the longer the duration of the exposure, the worse the outcomes for the child.
What's more, the administration's plans to remove limitations on the length of children's detentions will not only prolong exposure to trauma, they will severely limit lawyers' ability to expedite hearings or even raise length of detention as a concern. Being released from detention also allows children greater access to lawyers and immigration legal services, which can make an enormous difference in their immigration proceedings. Contrary to statements by the government, the vast majority of people released from detention attend their future immigration court hearings.
We don't incarcerate children for other civil law infractions and we never jail American children when their family members commit a crime. The government should not be in the business of harming and traumatizing migrant children either. Instead, the government should be working to comply with the Flores settlement and to design immigration policies that keep children and families out of detention, provide the right to seek asylum, and create pathways to citizenship.