Conference Highlights the Impact of the Affordable Care Act on Poverty
November 1, 2013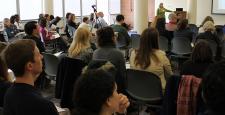 DAVIS, Calif. — The Center for Poverty Research at UC Davis hosted top health care experts from across the country to discuss the rollout of the Affordable Care Act (ACA) and what the health care expansion means for poor and low income families in the U.S.
The Center for Poverty Research at UC Davis hosted top health care experts from across the country to discuss the rollout of the Affordable Care Act (ACA) and what the health care expansion means for poor and low income families in the U.S.
Presenters at the conference, "The Affordable Care Act & Low Income Populations: Lessons from and Challenges for Research," held on November 1 at UC Davis, considered the ACA from diverse perspectives, including access to care, how hospitals will implement the reform, as well as broader impacts the ACA may have on personal finances and labor markets. The event was co-sponsored by the UC Davis Center for Healthcare Policy & Research.
"Heath care access, health and socioeconomic status are very much related to the Center's work," said Ann Huff Stevens, director of the Center for Poverty Research.
"The Affordable Care Act may be the major expansion of the social safety net that we see in this decade."
Conference keynote speaker Mitchell Katz said it is helpful to think about the ACA's impact in terms of health insurance reform and health system reform. "I'm more interested in health system reform, and I think that's the part that's going to affect more low-income people."
Katz is the director of Los Angeles County Department of Health Services, which serves more than ten million residents, about one million of whom have no medical insurance. As director of San Francisco's public health department, he oversaw the creation of the city's universal health care program.
"While the Affordable Care Act is going to grant people access to care who previously had difficulty, it isn't actually going to solve on its own homelessness, lack of food, no one to take care of you, an abusive relationship, hooked on substances," said Katz.
State health care expansions have provided valuable precedents for the possible wider impacts of the ACA. Sarah Miller, a Robert Wood Johnson Foundation Scholar in Health Policy Research at the University of Michigan, presented her findings that the 2006 state health reform in Massachusetts led to higher credit scores, fewer bankruptcies and reduced delinquency on debt payments statewide.
"It shows that the effects of these public health insurance expansions reach beyond just consumption of health care," said Miller.
Since the ACA relaxes the link between employment and health insurance, it could also impact how many people stay employed and the total hours they work. Craig Garthwaite, an assistant professor of Management & Strategy at Northwestern University's Kellogg School of Management, found this to be true at the state level while studying Tennessee's Medicaid program TennCare. In 2005 the state program disenrolled approximately 170,000 people from its health insurance plan, which led to a large increase in the state's supply of labor.
The ACA may also have unintended effects and impacts for populations it was not meant to affect directly. Robin Affrime, CEO of CommuniCare Health Centers, she said that the new federal funds will help her organization subsidize service to undocumented immigrants they already provide for free. CommuniCare was founded in 1972 as the Davis Free Clinic in Davis, California.
"If we have enough people who are covered, it absolutely helps us provide uncompensated care for the undocumented," said Affrime.
Katz noted that another potential side-effect of the ACA is that it could improve service delivery in public hospitals, since many of the previously uninsured will have coverage—and thus more choices of where to obtain medical care—in future years.
The question of how the ACA will improve public health in the long-term is a complicated one, since health insurance alone does not automatically lead to care. In addition, the impact of planned expansions in coverage will depend upon the availability of health care providers in the areas with increased demand for services.
"We still don't know really how it's going to play out," said Ian Hill a research fellow at the Urban Institute. Hill has conducted in-depth case studies in ten states to find out if there are enough health care providers to meet the new need, and how states are planning to cope with this new demand for care. "Getting people to take action and apply is a barrier in itself."
Neal Kohatsu, medical director of the California Department of Health Care Services said the biggest challenge of the ACA is bridging health care and public health, something that will be crucial for the state in the future.
"We need to apply academic and other resources to solving these complex problems," said Kohatsu. "Unless we pull together we're not going to be able to deal with the broader problems in California."
Here is a complete list of ACA conference presenters:
Robin Affrime, Chief Executive Officer, CommuniCare Health Centers
Ron Chapman, MD, MPH, Director and State Health Officer, California Department of Health
Peter Cunningham, Center for Studying Health System Change
Thomas DeLeire, Georgetown University
Craig Garthwaite, Northwestern University
Ian Hill, Urban Institute
Mitchell Katz, MD, Director, LA County Department of Health Services
Neal Kohatsu, MD, MPH, Medical Director, California Department of Health Care Services
Joy Melnikow, MD, Center for Healthcare Policy & Research
Sarah Miller, University of Michigan
Laura Schmidt, University of California, San Francisco
Kris Srinivasan, MD, CommuniCare Health Centers