Center Director Ann Stevens to Lead the UC Davis Graduate School of Management
September 23, 2014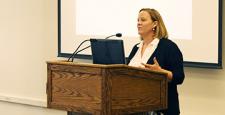 DAVIS, Calif. — Center director Ann Huff Stevens has been appointed interim dean of the Graduate School of Management.
Stevens will continue to direct the center but will give up her position as chair of the Department of Economics. She will serve as dean until the position is filled permanently, but will not be a candidate for the job. Stevens' appointment is effective October 1.
"I am looking forward to working with Ann as she takes on this critical leadership role," said UC Davis Chancellor Linda P.B. Katehi. "Given her scholarly formation as an economist and administrative experience as both department chair and director of the Center for Poverty Research, she is well equipped for this appointment."
Stevens is the center's founding director, and studies low income workers and labor markets, the incidence and effects of job loss, connections between economic shocks and health, and poverty and safety-net dynamics. She is a faculty research associate with the National Bureau of Economic Research. Before joining UC Davis in 2003 she was a faculty member at Rutgers and Yale universities.
"I am energized by this opportunity to work with the outstanding faculty, alumni, staff and students at the Graduate School of Management," said Stevens. "I know that we will make great progress together."
Last year, Stevens worked with a team of UC Davis MBA students on the Thrive Index for The Shriver Report, a non-partisan initiative on American women and families led by journalist Maria Shriver. The Index helps managers identify company policies and best practices that promote the success of low-wage female workers.
Stevens has served on numerous committees and groups during her career. During 2013-14, she chaired the Provost's Study Group on Access and Affordability, where she led a group of faculty, staff and students in an examination of trends in and issues surrounding budgetary pressures and rising tuition.
"Ann has distinguished herself as a scholar, teacher and academic administrator during her career at UC Davis," said Provost and Executive Vice Chancellor Ralph J. Hexter. "She enjoys the respect and support of her colleagues across the campus, which will serve her well as she sustains the Graduate School of Management and maintains its forward momentum during this important transition."
Hexter said campus leadership anticipates the search for a permanent dean to take place during the 2015-16 academic year, with a new dean appointed no later than July 1, 2016. Outgoing dean Steven C. Currall has recently been appointed as a special adviser on plans for a third UC Davis campus.
Stevens received her doctorate from the University of Michigan in 1995 and has served as an investigator on numerous grants from the National Science Foundation and other agencies.