Poverty for States and Large Metropolitan Areas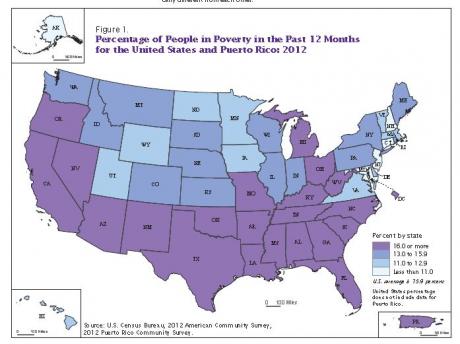 Using income and household relationship data from the American Community Surveys (ACS), the Census Bureau provides number and percentage of people in poverty for the nation, states, and large metropolitan statistical areas. 
Frequency and Timespan: Annual data and averages across mulit-year timespans for 2004-2012
Geographic Level of Coverage: Subnational estimates of income and poverty for all places, counties, and metropolitan areas with a population of at least 65,000 as well as the nation and the states
Publications and Tables available online
Source: U.S. Census Bureau. Description of Income and Poverty Data Source. (PDF) Accessed 2/14/2012
For additional information, see also our FAQs: How is poverty measured in the United States?, How does geography relate to poverty?, What do we know about the geographic concentration of poverty?